Shopping Cart
Your Cart is Empty
There was an error with PayPal
Click here to try again
Thank you for your business!
You should be receiving an order confirmation from Paypal shortly.
Exit Shopping Cart
So....Sunday was the baby dedication for our care giving couple at GTS. Julius and Constance dedicated their daughter Eve this past Sunday.
We left early in the morning so we could make it on time....flat tire....and I mean flat. Fortunately, there were a couple of motorcylcle drivers who were willing to help us change it so Tim didn't get all dirty. Out to the village we go. Tim drops me off at a small village church and heads out to help everyone else from GTS, the food, and all of the other stuff they are bringing for the dedication get to the church safe and sound. 6 hours later we head home. On the way we decide to stop and get some money out of the ATM since it's on the way home. While Tim was doing that I hear this weird noise almost like a growl. I jump out of the car and start looking around to make sure we didn't somehow pick up some animal while we were in church. Tim comes back before I can finish looking and we get in car and head home. I am telling him...I know I heard something. Tim...umhummmm.
Look...I know I am not crazy...I really did hear something. We get home and just go about our business. The next morning Tim gets in the car to run out and get something. He starts honking the horn like crazy....I come out thinking he is just a little impatient about me opening the gate for him. When I get out there he points to the back of the car....and there is this rooster with his head poking up from the very back. He must have hidden behind the tire that needed to be fixed. Unbeknownest to us....during all of the ferrying of people and things, a rooster was placed in the car for the visiting Pastor. Since things went so long and we left before some of the others we took the rooster with us. Only in the village....haha. So it's now in our freezer and the roosters owner is now 3000 cfs richer (around $6). I think we have had many firsts in Cameroon and this qualifies as one. We love it here...you never know what to expect!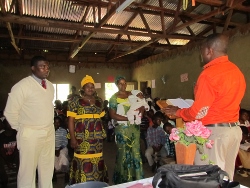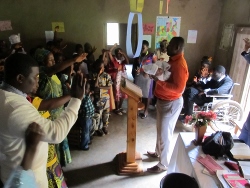 Julius Constance and sister (holding Eve)              praying for Eve

Categories: None
/